When we first went to see Akupara I climbed into the vberth and had a quick look inside the chain locker. I knew it was in pretty rough shape but once I started really investigating, the truth became more and more evident.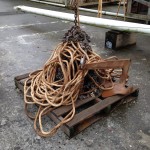 Since we have a soft spot on the foredeck, I decided to drop the anchor so that I would have access to the deck from underneath. The primary anchor is a big old rusty bruce, and the secondary a big old (not as bad) rusty CQR. After about 15 minutes of trying to free up the windlass (add a windlass rebuild to the project page) down went the bruce with a mighty crash. Good thing the marina yard cats weren't sitting on the pallet I had placed there. The majority of the chain came out, with the occasional bit of encouragement but there was a lot of rust flakes on the deck. Next I let go the secondary chain.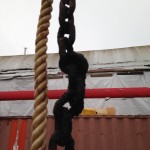 This time I was not so lucky. about 1/4 of it did come out but then it came to an abrupt stop. Nothing I did would make it come out any more. I went back inside, climbed into the vberth and the reason became quickly obvious.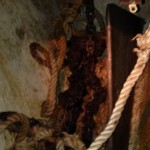 The majority of the rest of the chain is a giant rust ball. I will need to return with my grinder to cut it up and dispose of it. (Add a quote for 500 feet of new chain to the costs page.)
I made some progress today in other areas. I finally managed to track down where the auto tuner for the SSB is. It is behind the panel in the aft cabin.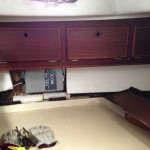 I completed removing all of the stuff from the aft cabin, the nav station, and the vberth as well as both heads. Unfortunately I now have a small mountain of stuff to remove from Akupara so that we can begin to work.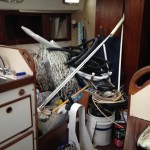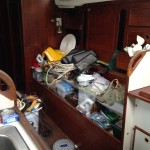 Fortunately I think we have come to the end of throwing things out as well. I forgot to take a picture, but I had another mountain of stuff outside destined for the dumpster.