Holy crap there is a lot of work in renovating a kitchen! Now I understand why kitchen reno's are so expensive! The galley on Akupara is gigantic compareds to a lot of boats, but miniscule as compared to a home kitchen, and yet the amount of work feels the same!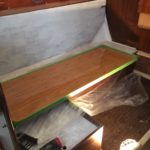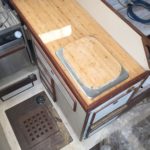 So far I have placed and removed the 2 countertops at least 10 times, I have placed and removed the cupboard panel at least 10 times. I have gutted the shelf, built a new one, sanded, ground, painted and epoxied, and we are still not complete!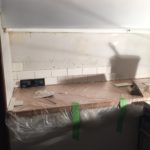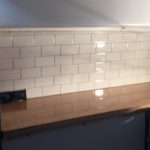 Last weekend we took the plunge and started installing white subway tile as a backsplash both behind the sink and behind the fridge/freezer. I have never done tiling in any way shape or form but thanks to the internet, home reno shows, and advice from my neighbour, who also loaned me his tile tools, I think I managed to do a decent job.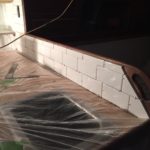 This weekend we are going to attack the grouting. Hopefully it will work out ok and hopefully I have watched enough youtube to do it properly.
I am spending a little extra time on the galley. I really want to make sure that it is "perfect" for the Admiral. I don't mean that in any condescending or sexist way, I truly want her to be happy there. And to back up my claim of not trying to be ignorant, she has said the exact same thing to me. She wants it to be "perfect" for her as well. As she says, if it meets all of her needs, and she enjoys being in the space, she will use it. If it is a hole, she won't. Makes perfect sense to me. I make her the best galley I possibly can, she enjoys it and spends lots of time in there, she does lots of cooking and baking, and I get fat! It's a win win situation 🙂 ok I fell off the puritan wagon didn't I 🙂
The galley in Akupara as I said above is a really big galley for a 42 foot boat in my opinion. It is located midships as close to the center of motion as possible. It is narrow for and aft which makes for a safe workspace while underway, the list goes on and on. But. It also has its drawbacks. You need to lean over the top of the stove to get into the cupboards. There is a gigantic bottomless pit underneath the counter beside the stove that again you have to twist and contort over half of the stove to access. It only has 3 small drawers, 1 drop down compartment which is half used by the sink, 2 slightly bigger drawers on the end and another drop down access. It can be improved. The issue is, I am not an interior designer or a master at re-architecting and re-defining useable space. I am also confined by the layout of the galley itself, which I do not want to change.
I have a dream for the galley but I will need to see if the budget allows for it. Last year at the boat show we visited a booth that blew our minds.
Shelf-genie! http://www.shelfgenie.com/british-columbia
These people seem to have a solution for everything! Oh the improvements that could be made, the happiness of the Admiral, and the fresh banana cream pies that could be had….. 🙂