When a man takes that last step off of the dock, and onto his yacht, he changes.
Not only does he change on the inside, but he changes on the outside as well.
It doesn't matter how big the yacht is, it only matters that he is Master and Commander of all he surveys. His chest swells, his muscles tense and his vocabulary changes with the introduction of long lost words like yardarm, and hawsepipe, and fathoms.
He gets the 1000 yard stare in his eyes. You know he has been there. He has survived horrors on the high seas, the kind of which fill the terrors of your dreams.
His quiet confidence strikes both fear and calm, all at the same time, and most women grow weak in the knee around such power.
If he happens to catch a glimpse of a reflection in perhaps the black death called a Great White's eye, the picture he sees is very much like the one I now share below.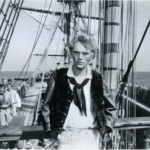 Of course, there are always 2 sides to every tail, and his greatest fan of all, his wife, has a much different perspective!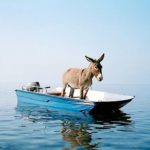 Good night all,
Hee Haw….