Welcome to the refit site of Akupara. A 1976 Whitby 42 Ketch.
Akupara – The World Turtle (also referred to as the Cosmic Turtle, the World-bearing Turtle, or the Divine Turtle) is a mytheme of a giant turtle (or tortoise) supporting or containing the world. The mytheme, which is similar to that of the World Elephant and World Serpent, occurs in Hindu, Chinese, and Native American mythology.
Copied from Wikipedia
We were unsure of the name Akupara for our Whitby 42 and initially thought we might change it, but after reading the definition above, we have decided to keep it. The captain has always had a thing for turtles, he once turned a 2 hour car ride into a 6 hour car ride, as he had to stop and help every turtle he saw cross the road so that they would not get killed, but that is beside the point. We have also collected wooden carved turtles from all of our travels and kept them on our boats. The admiral pats the wooden carved turtle every time she comes aboard as one would do with a talisman.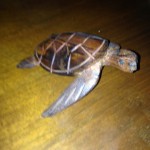 So far it seems to have worked so why break tradition.
Akupara is a 1976 Whitby 42 center cockpit Ketch, hull number 74. We have been sailing for a long time and we are excited to restore Akupara back to the point where she can be sailing again.
Please keep checking back as we will be updating the site as much as possible.